Due to Covid-19, the 2020 CTWC will be an online event. Visit the Rules 2020 page to find out more about the format!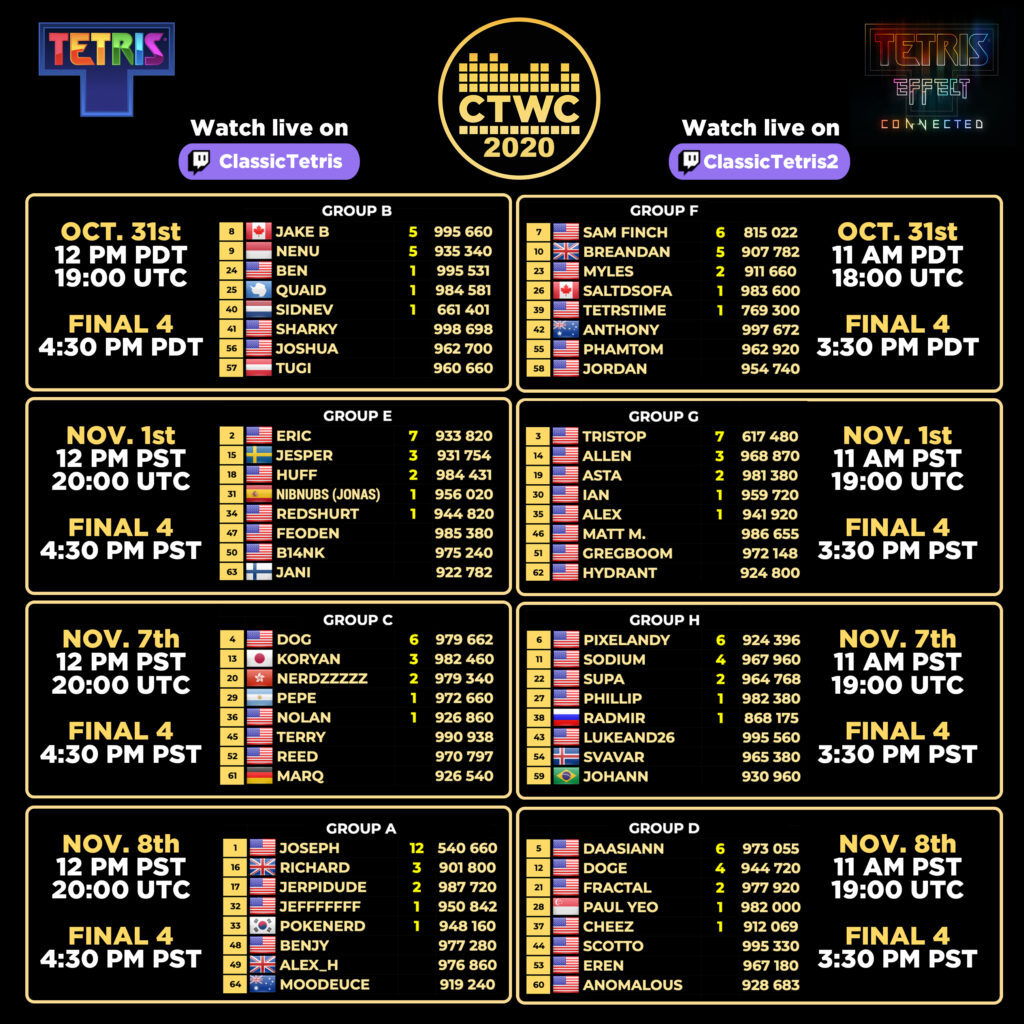 When: 2020 Qualifying was completed on Oct. 18th. CLICK HERE to view the seeding. The first brackets will begin on Oct. 31st at noon PST!
Where: Twitch
How to Compete: Read the Rules 2020 page.
How to Watch Online: The 2020 CTWC will be streaming intermittently throughout October, November, and December on our Twitch Channel. Visit the Rules 2020 page to see the schedule.
How To Use This Website:
If you're competing in the 2020 CTWC, read the Rules.
If you're looking for a regional event in your area, check out the Schedule.
Congratulations to our 2019 Winner Joseph Saelee!
The 2020 CTWC will take place Online. We hope to see returning champions Joseph Saelee, Jonas Neubauer, and Harry Hong along with many of the players featured in the award-winning Tetris documentary Ecstasy of Order: The Tetris Masters.
After 10 years of Classic Tetris World Championships, the competition is stronger than ever! Inspired by the historic 1990 Nintendo World Championships, the tournament has brought the love of classic Tetris into the 21st century.
The CTWC format is spreading all over the world!  Be sure to check out the Schedule tab to learn more.
We are looking for sponsors!  Checkout the sponsorship packet to learn about this amazing opportunity.
If you'd like to contribute to the CTWC: http://bit.ly/donatectwc
If you're wondering what the heck this is all about, why we play 8-bit Nintendos, or why NES Tetris seems so hard…
WATCH THIS VIDEO!