Click here for the hour-by-hour schedule of the 2023 CTWC at Portland Retro Gaming Expo! Coming to Portland to compete?
The CTWC format is spreading all over the world! You can watch all of our events on the Twitch Channel.
Here's a handy calendar of the all the regional events we have scheduled (all times Pacific/Los Angeles):
Official CTWC Regional Tournament Rules
Note: Schedule and Official Rules MUST be posted in an easy-to-find section of the hosting events website.
CTWC Regional Tournaments are played in 4 rounds:
Qualifying Round
Top 8 Round
Semi-Final (Top 4) Round
Final Round
Qualifying Round
During this round, competitors will play NES Tetris A-Type and try to get the highest score possible. The qualifying round will run for a period of time that will be clearly posted at the tournament venue. At the end of the qualifying round, players with the top 8 scores* will advance to the Top 8 round.
A designated group of NES machines will be used for the Qualifying Round. Players should line up, wait until they reach the front of the line, then take their place at one of the available NES consoles and start their game.
Each player is allowed to play a single game, starting on level 9 or higher. There is no "warm up" time allowed on the machines provided for the Qualifying Round. If a player starts on a level below 9, they will have one opportunity to reset the game and start on level 9 or higher.
When the player's game is over, they can choose to submit their score to a tournament official or leave the score unrecorded. If they wish to submit their score, they should raise their hand to get the attention of a tournament official. The tournament official will then record their name and score. If the player wants to play another game, they must return to the back of the line.
* If two or more players have identical scores, (as may be the case with multiple players achieving the maximum score of 999,999) then the players' 2nd-highest scores (and 3rd-highest, 4th highest, and so on as necessary) will be used to determine their positions on the leaderboard. Only officially submitted scores will be considered for tie-breaking purposes. Players must officially submit, at the time the score is achieved, any score that they want to be considered in the calculation of the official leaderboard ranking.
Top 8 Round, Semi-Final (Top 4) Round, and Final Round
Using the scores obtained during the Qualifying Round, the top 8 players are seeded in a single elimination tournament bracket as follows: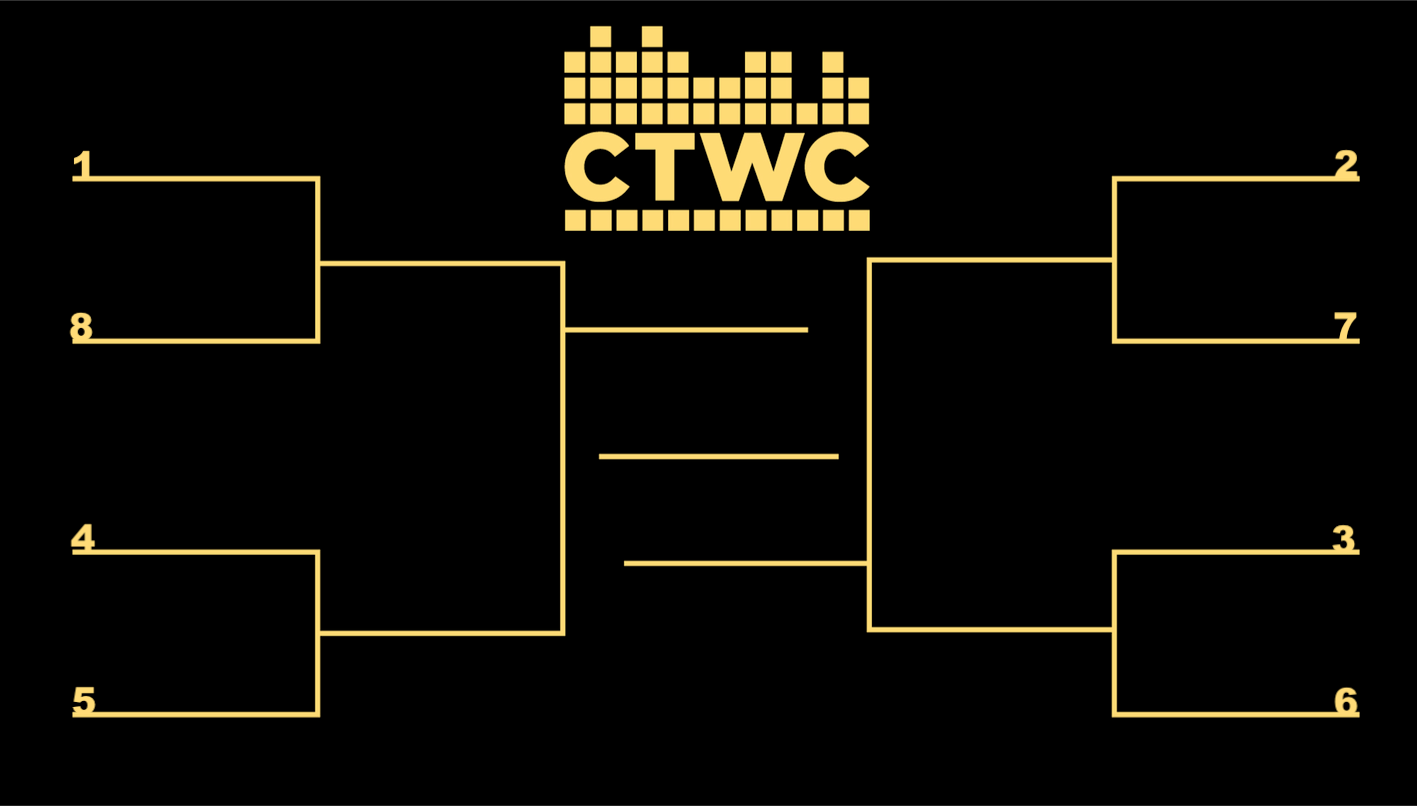 The remaining rounds consist of two player NES Tetris A-Type matches. Before the first game of each match, players will be given 1-2 minutes of "warm up" time. After the warm up time, the player with the higher seed will choose the starting level. The standard available starting level options for CTWC events are typically 15 and 18*. After the first game, players take turns choosing the starting level. When the players are ready, a tournament official will issue a 3-2-1 countdown, at which point the players will simultaneously begin their game by pressing start on their controller. Game play will continue until one of the following scenarios occurs:
both players have topped out
one player has topped out and the other player has a higher score
In either scenario, the player with the highest score wins the game. If both players obtain the maximum score of 999,999, the game will be replayed.
*Some Regional tournaments may allow players to start on levels as low as 9, depending on the anticipated skill level of the competitors and time available. Tournament officials will make this known at the tournament venue in advance.
Top 8 Round and Semi-Final (Top 4) Round Matches
These matches are best-of-3. The first player to win 2 games will advance to the next round.
Final Round Matches
The final match is best-of-5. The first player to win 3 games wins the tournament.
Equipment and Controllers
A group of NES consoles, NES Tetris carts, and NES controllers will be provided for competitors to play. Competitors can use the provided NES controller or bring their own controller. The controller can be any standard unmodified* original NES controller, any standard unmodified original NES "dog bone" style controller, or any standard unmodified "Goofy Foot" style controller. Tournament or CTWC officials may disqualify any controller other than those listed here (including but not limited to other 3rd party controllers, controllers with turbo features, etc), and any games played with those controllers, at any time.
*Any additional electronics will result in automatic disqualification. Controller maintenance (cleaning, swapping D-pads or buttons with original NES controller replacement parts, etc) is allowed and in most cases will not result in a disqualification. Any modifications may be evaluated by the tournament or CTWC officials and may result in a disqualification.
Past Winners:
WEST COAST QUALIFIER – Retro City Fest – Pomona, California – Winter
2019 winner – Joseph Saelee
MIDWEST QUALIFIER – Tecmo Madison – Madison, Wisconsin – Spring
2018 winner – Josh Tolles
SOUTHERN QUALIFIER – Let's Play Gaming Expo – Irving, Texas – Summer
2018 winner – Kristen Stein
EAST COAST QUALIFIER – Replay FX – Pittsburgh, Pennsylvania –  Summer
2018 winner – Christopher Brady
DESERT QUALIFIER – Game On Expo – Phoenix, Arizona – August
International Tournaments are popping up around the globe:
Classic Tetris European Championship
Classic Tetris Singapore Championship
Classic Tetris Finnish Championship
Classic Tetris German Championship
Classic Tetris Hong Kong Championship
Be sure to contact us at tetrischampionship at gmail dot com if you're interested in setting up a CTWC tournament in your area!

European champ Jani impressing us with his skills!