2021 CTWC – Official Format and Schedule
(Click here to read the Official CTWC Regional Tournament Rules).
Due to Covid-19, this year's tournament will be ONLINE
Tournament Format

Player Requirements

Twitch stream
13 years of age or older
Original NTSC NES console, Retron 1, Retron 1 HD, Classiq N, Retro-bit RES, or RetroUSB AVS (AVS requires 1-second start delay during match play)
Unmodified Original NES Tetris Game Cartridge (not Tengen)
Approved NES controller (Original, Dog-bone, Hyperkin Cadet, or Retro-bit Retro8)
Webcam
Lights on and illuminating player
Face, hands, and controller visible in shot
Microphone near player
Format Overview
October (Top 64):
Entry Fee – $50
Qualifying: Players will have 120 min. to stream score attempts (last game must begin within 120 min.)
Qualifying will use multiple max-out rule from past CTWCs
Top 64 scores will qualify for the tournament
The 64 seeds will be distributed into eight separate 8-seed double elimination tournament brackets (see graphic)
Players will not have the same RNG
All games will be level 18 start
All matches will be Best-of-Five
The winner of each tournament bracket will advance to the Main Event (Top 8) in November
November Main Event (Top 8):
Players will be reseeded based on their performance in the double elimination bracket
Main Event will be an 8-seed single elimination bracket
Players WILL have the same RNG
All games will be level 18 start
All matches will be Best-Of-Five
Prizes TBA
Schedule
Sept. 6th: Registration Opens
Sept. 25th: Registration Deadline
Sept 27th – Oct. 3rd: Qualifying
Oct. 9th: *Brackets 1 & 2
Oct. 10th: *Brackets 3 & 4
Oct. 16th: *Brackets 5 & 6
Oct. 17th: *Brackets 7 & 8
*Bracket order subject to change
Silver Tournament (seeds 65-96) will take place on Oct. 23rd and 24th
Sunday, Nov. 14th: Main Event
(Specific times TBA)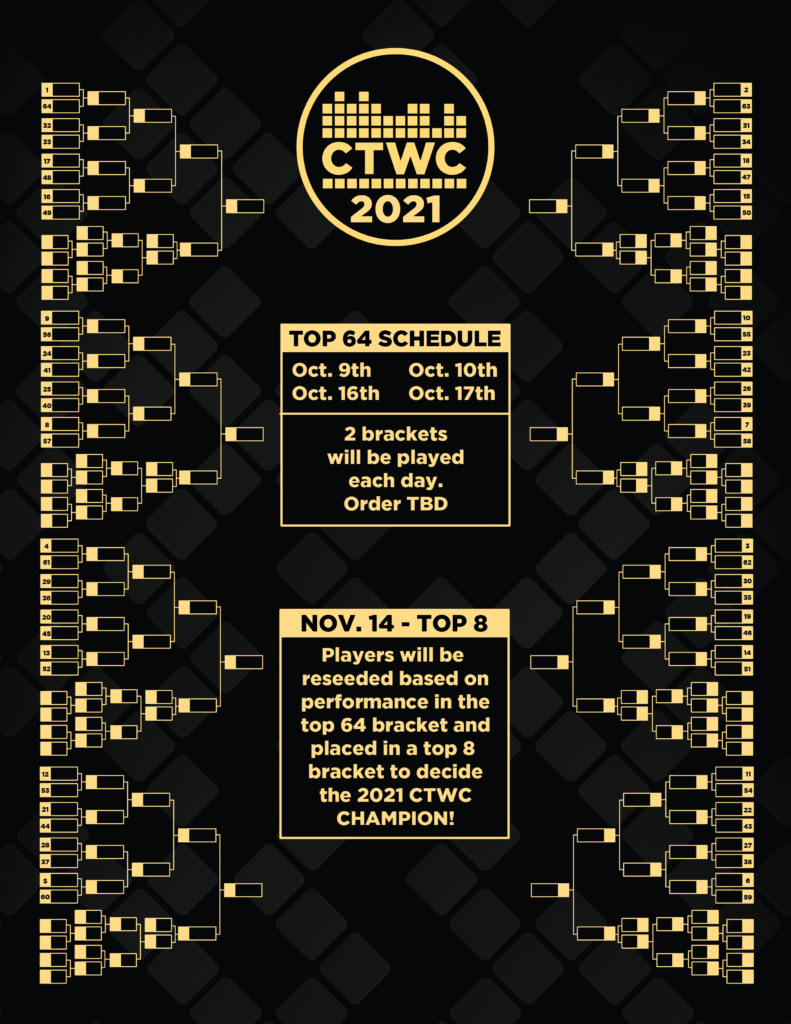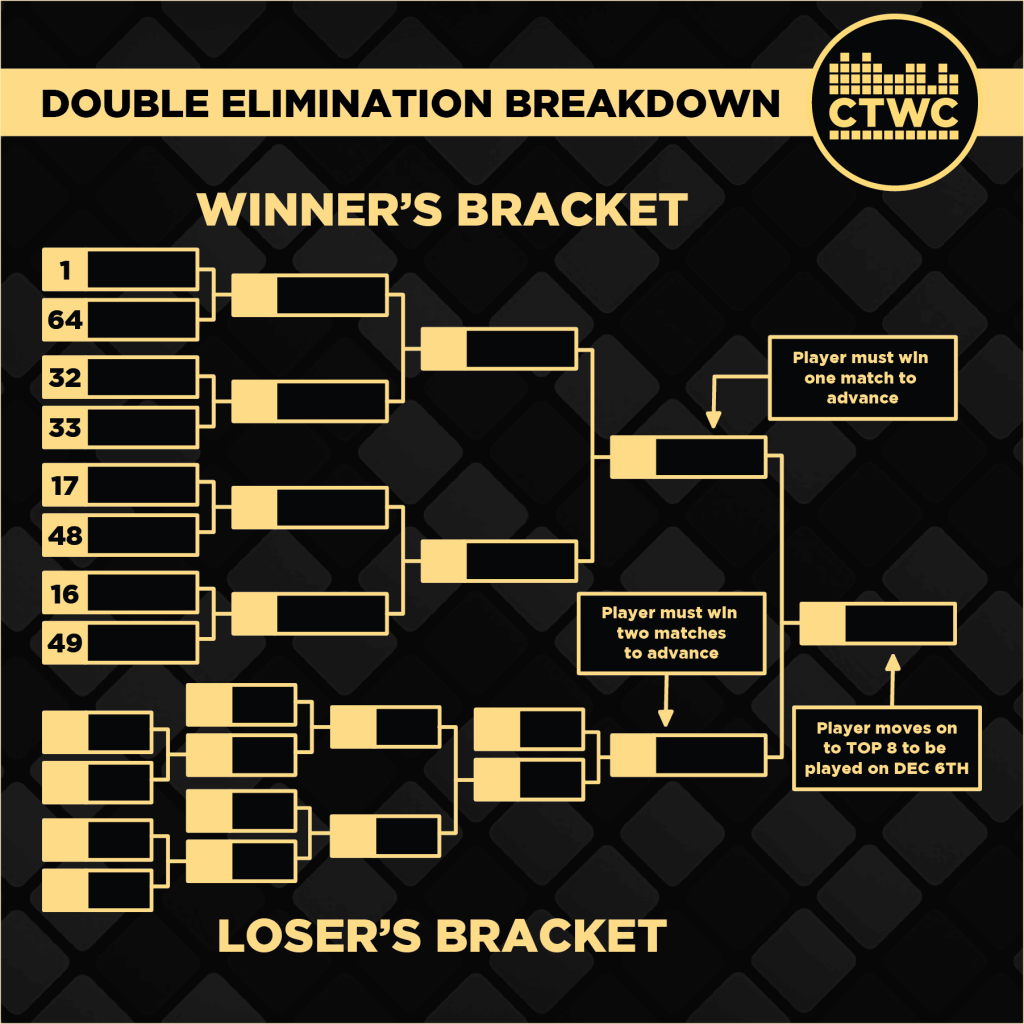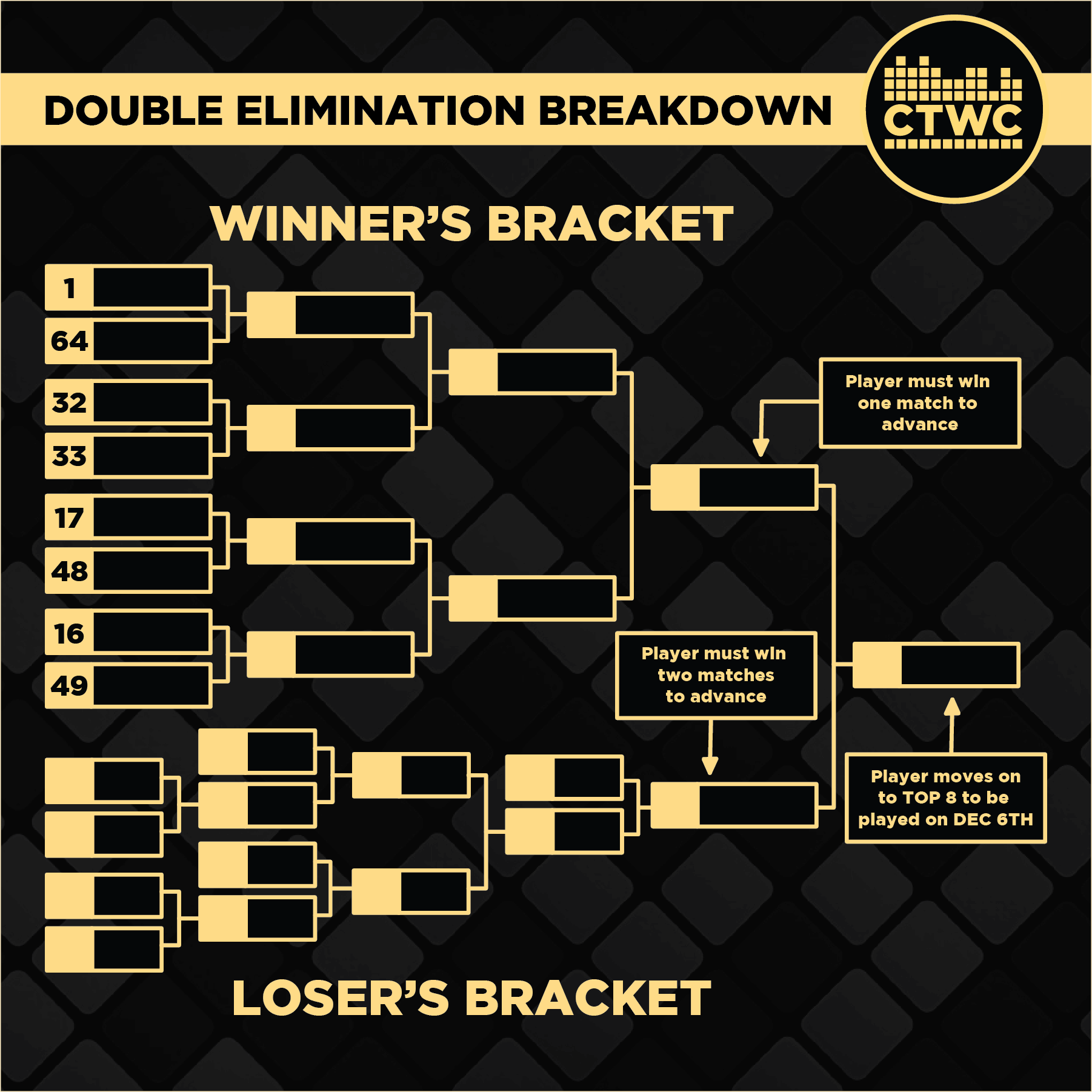 Qualifying Procedures and Rules
Rules
Player's hands and face must be visible in shot at all times
Button presses and player's voice should be audible on stream
No music should be playing (headphones ok)
Approved console, cart, and controller required
Player is allotted 2 hours of uninterrupted play. Setup and verification will not count against the player's allotted time.
The game that is in progress once 2 hours have elapsed will be the last game and the player will be allowed to finish that game.
There must be a timer visible on the stream.
Hard resetting is not allowed. Games must let rocket screen conclude to count (do not soft-reset before rocket screen if you want a score to be submitted).
Pausing is not allowed.
If a console freezes and a hardware reset is needed, you must pause your timer and re-verify your attempt with a judge. Once you have re-verified, you can resume and use the rest of your qualifying time.
VOD must be recorded AND saved directly on Twitch (if recording burdens resources, an exception can be made).
No Game Genie codes allowed.
Procedures
There will be judges available to witness the beginnings of qualifying attempts to check equipment and verify proper procedures. Each player will claim a timeslot to qualify on the sign-up sheet. At the designated time, a judge will reach out to the player and qualifying can begin. Please have your Twitch Stream ready before your time slot begins.
The process for starting a qualifying attempt will proceed as follows:
Player must claim a time slot on the sign-up sheet (link will be emailed).
A judge will contact the player and confirm their availability to verify the attempt, preferably through Discord.
At the designated start time, the player must verify that they are using the official CTWC stencil correctly.
The judge will confirm that the player is streaming AND recording (if recording burdens resources, an exception can be made).
The player must show the judge their cartridge, controller and console separately, and then insert the cartridge into the console.
The console must be seen powering on with the initial boot-up flash on stream. From this point on the console should remain on.
Once the system is on, the player will reposition their webcam, and the judge will verify that their hands and face are visible.
The player must play one game on a level of the judge's choice (1-5 only) and score >5000 points and intentionally top-out.
During the beginning of this game, the judge will instruct the player to make a random series of piece moves (ie: 2 to the left, 3 to the right, rotate once, push down) to prove the player is live. Once they have intentionally topped out, the judge will have the player enter a random word into the highscore screen to further prove it is a live attempt.
Now the player will start their timer and begin qualifying.
Now that the qualifying attempt has begun and is verified, the player can continue without the judge being present.
If the console freezes, the player must contact their judge to re-verify immediately.
Submitting Scores
Players must submit AT LEAST 3 qualifying scores.
Players will share a link to the Twitch VOD of their qualifying attempt in the CTWC Discord.
Along with the link, players will provide time stamps for the start of each high-scoring game.
In the case of players who max-out 3 times or more, they must provide timestamps for each max-out, as well as their highest non-max-out score.
Players are reminded to set their Twitch accounts to keep their VODs, as the qualifying VOD should be available throughout the tournament for reference.
Players should also keep the recording and have it available for examination if needed.
After you're finished with qualifying, submit your high scores in the Discord channel for qualifier submissions.
The VOD will be reviewed by a judge to determine your seeding in the tournament.
Official CTWC Regional Tournament Rules
Note: Schedule and Official Rules MUST be posted in an easy-to-find section of the hosting events website.
CTWC Regional Tournaments are played in 4 rounds:
Qualifying Round
Top 8 Round
Semi-Final (Top 4) Round
Final Round
Qualifying Round
During this round, competitors will play NES Tetris A-Type and try to get the highest score possible. The qualifying round will run for a period of time that will be clearly posted at the tournament venue. At the end of the qualifying round, players with the top 8 scores* will advance to the Top 8 round.
A designated group of NES machines will be used for the Qualifying Round. Players should line up, wait until they reach the front of the line, then take their place at one of the available NES consoles and start their game.
Each player is allowed to play a single game, starting on level 9 or higher. There is no "warm up" time allowed on the machines provided for the Qualifying Round. If a player starts on a level below 9, they will have one opportunity to reset the game and start on level 9 or higher.
When the player's game is over, they can choose to submit their score to a tournament official or leave the score unrecorded. If they wish to submit their score, they should raise their hand to get the attention of a tournament official. The tournament official will then record their name and score. If the player wants to play another game, they must return to the back of the line.
* If two or more players have identical scores, (as may be the case with multiple players achieving the maximum score of 999,999) then the players' 2nd-highest scores (and 3rd-highest, 4th highest, and so on as necessary) will be used to determine their positions on the leaderboard. Only officially submitted scores will be considered for tie-breaking purposes. Players must officially submit, at the time the score is achieved, any score that they want to be considered in the calculation of the official leaderboard ranking.
Top 8 Round, Semi-Final (Top 4) Round, and Final Round
Using the scores obtained during the Qualifying Round, the top 8 players are seeded in a single elimination tournament bracket as follows: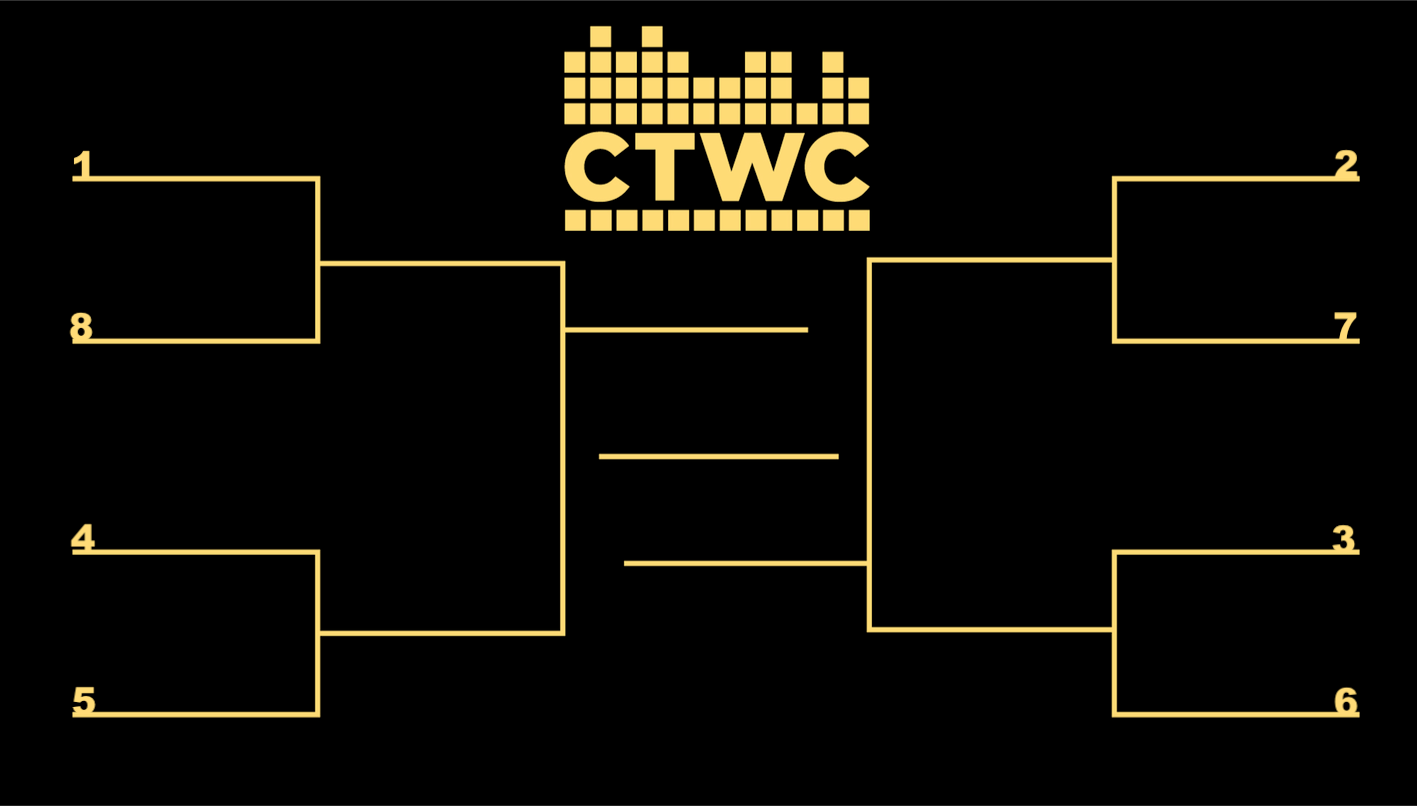 The remaining rounds consist of two player NES Tetris A-Type matches. Before the first game of each match, players will be given 1-2 minutes of "warm up" time. After the warm up time, the player with the higher seed will choose the starting level. The standard available starting level options for CTWC events are typically 15 and 18*. After the first game, players take turns choosing the starting level. When the players are ready, a tournament official will issue a 3-2-1 countdown, at which point the players will simultaneously begin their game by pressing start on their controller. Game play will continue until one of the following scenarios occurs:
both players have topped out
one player has topped out and the other player has a higher score
In either scenario, the player with the highest score wins the game. If both players obtain the maximum score of 999,999, the game will be replayed.
*Some Regional tournaments may allow players to start on levels as low as 9, depending on the anticipated skill level of the competitors and time available. Tournament officials will make this known at the tournament venue in advance.
Top 8 Round and Semi-Final (Top 4) Round Matches
These matches are best-of-3. The first player to win 2 games will advance to the next round.
Final Round Matches
The final match is best-of-5. The first player to win 3 games wins the tournament.
Equipment and Controllers
A group of NES consoles, NES Tetris carts, and NES controllers will be provided for competitors to play. Competitors can use the provided NES controller or bring their own controller. The controller can be any standard unmodified* original NES controller, any standard unmodified original NES "dog bone" style controller, or any standard unmodified "Goofy Foot" style controller. Tournament or CTWC officials may disqualify any controller other than those listed here (including but not limited to other 3rd party controllers, controllers with turbo features, etc), and any games played with those controllers, at any time.
*Any additional electronics will result in automatic disqualification. Controller maintenance (cleaning, swapping D-pads or buttons with original NES controller replacement parts, etc) is allowed and in most cases will not result in a disqualification. Any modifications may be evaluated by the tournament or CTWC officials and may result in a disqualification.